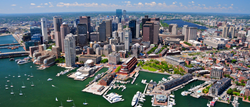 "We are excited to provide solar panels and supplies to the East coast solar contractor community in Boston." said Fortune Energy president Jack Meng.
SACRAMENTO, CA (PRWEB) JUNE 30, 2015
Fortune Energy is looking forward to the opening of its new full service branch location in Boston, Massachusetts, the company's fourth location in the United States. Solar is expanding throughout the country, and has recently taken particularly large strides in the Northeast. Fortune Energy provides competitive wholesale pricing on solar panels, inverters, and racking to local installers in the US. The new branch will be officially opened for business on August 1, 2015. The Boston branch will have a local sales office with an attached warehouse, just like the branches in Sacramento, CA; Los Angeles, CA; and Hawaii.
"We are excited to provide solar panels and supplies to the East coast solar contractor community in Boston. Boston has specific needs when it comes to solar panels and we aim to provide the best price and service for locals," stated Jack Meng, president of Fortune Energy. The new location allows for easy access to solar products with the convenience of local warehouse pick-up. Being able to pick up solar products on the East coast saves money on shipping costs.
The opening of the Boston branch is part of Fortune Energy's long term strategy to expand the company's footprint in the US. Boston is among a few of the metro areas that have more solar systems per capita in the US. The Fortune Energy Boston branch will support the ongoing development of solar businesses in the US by providing top-tier wholesale solar panels, inverters, and racking products with turn-key services.
Fortune Energy is dedicated to sharing knowledge about solar energy and solar products through their expansion. Solar energy is a clean and environmentally-friendly source of energy. "Our goal is to make solar power available to everyone and share information on how they can out solar power to work in their households affordably. Solar energy is a renewable energy source, and as long as the sun keeps shining solar energy will be available to all of us." said President Jack Meng.
Current solar news, information, and training opportunities are posted on Fortune Energy's social media sites: Twitter, Facebook, Google Plus, Ozoshare, and Linked-In.
For more information please contact:
Fortune Energy Marketing Department – Marketing(at)FortuneEnergy(dot)net
Hawaii Office: 98-723 Kuahao Place (A-10/11/12/13/14), Pearl City, HI 96782 Tel: 808-725-8780
Sac Office: 241 N. 10th Street, Sacramento, CA 95822 Tel: 916-492-2797 Fax: 916-492-2874
LA Office: 21029 Itasca Street, Unit A-B, Chatsworth, CA 91311 Tel: 818-678-9699 Fax: 818-812-9566
Boston Office: 125 John Hancock Rd, Taunton, MA 02780